Translation Office 3000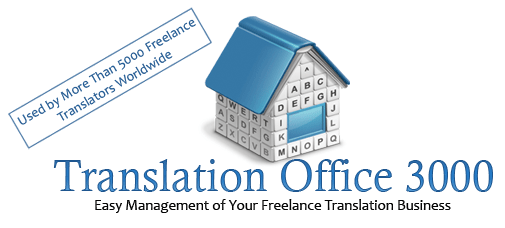 Easy management of your freelance translation business
Automates your business routines and helps you focus on translation, not administration!
TO3000 is a software package that helps you overcome the challenges of translation management.
In a nutshell, those translators who employ Translation Office 3000 …
•    are able to deliver every job on time with it
•    can find all the jobs they have done for their clients in the past
•    have a built-in word-count module at their disposal to count texts
•    can use templates to generate invoices, payments, etc.
•    always have a searchable database of invoices, payments, jobs and clients at hand
•    can use its built-in back-up and restore features to save a copy of their data and retrieve it if need be.
When you buy this special software package, you'll feel it was developed just for you – it will meet all your requirements.
TO3000 allows you to manage jobs, invoices and payments easily. It saves you time and gives you a clear picture of your business situation as well.
With Translation Office 3000 at your fingertips, you'll be able to see all the information you ever need. You'll consequently be able to plan your work better (and rest more peacefully as a result).
Thanks to better planning, you'll never miss a deadline again (and you won't need to apologize for doing so either). You won't need to worry about a job you forgot to do as TO3000 will always keep you on track. TO3000 is currently being used by 5,257 freelance translators worldwide.
Easy management of your freelance translation business
Translation Office 3000 helps translators track and manage their translation jobs, invoices, payments and, of course, their clients. This flexible tool has been created to help you organize most aspects of your work as a freelance translator in a simple way.
TO3000 will save you time at every stage of your work; it will automate many manual operations for you and eliminate hundreds of routine operations. What's more, it will provide you with a complete picture of your translation business.
| | |
| --- | --- |
| | With 5,257 licences of TO3000 sold to date, it's the most popular accounting software around for freelance translators! |
TO3000's key features
client database
A searchable database in which you can enter all the important information about your clients: contacts, project managers, files, projects, jobs, marketing information, prices, quotes, invoices and payments. All these details will be stored in one place, so you'll never need to waste time searching around for information.
word, character and line counts
Using the built-in version of AnyCount, you will be able to count words, characters and lines in files and you can use data you've received to create new jobs as well. The text-count engine will give you comprehensive word-count results and enable you to count text in parts of files that other programs overlook.

invoicing and payments
You'll never forget a single invoice or payment with TO3000's invoicing and payments features. TO3000 allows you to keep on top of overdue invoices or completed jobs that have not yet been invoiced. What's more, discounts, taxes and different currencies are all supported. You can either use ready-made templates or create custom documents of your own.

custom reports
Use existing reports or easily create whichever style of report you need in order to review information. Reports will allow you to view the key information about your business and help you manage it better.
pricing
Create prices for each client. These can easily be changed later. You'll never confuse the prices used for different clients again.
back-ups
The back-up feature allows you to keep a copy of all your important data, which can be vital when confronted with serious PC problems.
importing and exporting
Easy migration with the built-in importing and exporting tool allows you to import your existing client database in minutes!
Keep tabs on your POs, jobs, invoices and payments by using TO3000.
Translation Office 3000 will be one of the most profitable investments of your freelance translator career.
General price: EUR189
We have discounts for members of multiple associations, please contact me to find out if you are eligible for special offer.
Special discounts for Facebook fans! Contact me for details: vitaly.pedchenko@translation3000.com